We are very fortunate to have
beautiful stained glass windows in our church.
Two of them are by the famous artist Evie Hone.
Here is the one called: 'The Good Shepherd'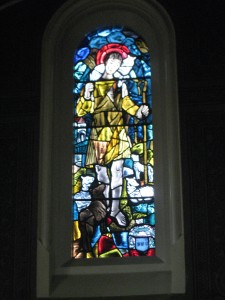 Today, Paul from the parish came to talk to us
about 'The Good Shepherd' and 'The Lost Sheep'.
This was part of our preparation for our First Confession
which is taking place on the first Saturday in March.
We told Paul what we knew about the story.
Cian said that the Good Shepherd is
God our Father in Heaven
and the sheep are
all the people in the whole world.
How God takes care of each one of us
was something that we found
amazing and impressive.
Paul made a sacred space.
In it he placed some tiny sheep
and a shepherd,
a candle
and the singing bowl.

Paul lit the candle. 
He struck the singing bowl three times.  
We closed our eyes and listened
to Paul's voice and the music he played.
Nicole said that she hadn't felt so relaxed since
Paul came in the last time.
Senan said he hadn't felt so quiet since the night before
when he was going to sleep.
We think Mark actually fell asleep.
He said he hadn't felt as relaxed since
he was in a jacuzzi on holidays.
Niamh said she hadn't felt as peaceful,
since going on a walk
one evening in Spain
when she heard the crickets chirping.
Paul has asked for some feedback on the meditation.
Well the only bad thing was that the quietness
was interrupted by intercom bell.
When asked how things could have been improved,
there was silence and then Cian said:
'By Paul coming in more often,'
with which we all agreed.
Thank you again Paul!