The children of 2nd Class, Room 6 were very interested
to hear stories about the history of Greystones.
Matthew lives in Rathdown.
He was amazed to hear that
people have been living in Rathdown
since the Stone Age.
Twenty years ago, a cliff near Rathdown
fell into the sea.
Among the rocks and earth,
people found Stone Age axe heads.
The children in 2nd Class, Room 6
were also fascinated to hear
that Vikings were in the area.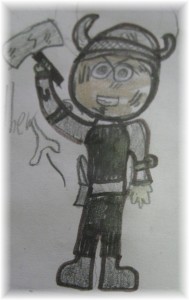 One of our favourite things to do,
when we have visitors from older classes
or students from Transition Year,
on work experience, visiting our classroom
is to challenge them to a game of Viking Quest.
Click on the link below to play!
We don't always win this game …
but we usually do!
This is what we learned in class:
We know Vikings visited our local area because
1. Some of the local placenames
came from the Vikings.
'Gata' is the Viking word for road.
Windgates is the road
between Bray and Greystones.
Wicklow comes from
the Viking words 'Vyking Alo'
which means Viking Meadow.
2. Viking coins were found
in the local area.
3. The monks wrote a book called
'The Annals of the Four Masters'.
In it they said that there had been
a big battle nearby at Delgany in 1021 AD.
The King of Leinster beat
the Viking King, Sitric.
We think it is exciting that Greystones
has had such an interesting history
from the time of the Stone Age
and that Vikings visited here too.
Later we heard that a castle
was built at Rathdown.
We look forward
to learning more.