Once upon a happy time
there lived a man called Joe.
He had a lot of horses
but his favourite one
was called Reggie
and his second favourite
one was called
Little Paddy
One day these two horses
were going out for a jog
but the horses got a fright
so they ran away
And on that sunny day
Joe got a call from the farmer
saying the horses were in his field.
Joe rushed out the door
and got in his car and drove to the farm,
But by the time he got there
the horses had eaten
a lot of the farmer's crops.
Joe hopped out of the car,
said sorry to the farmer,
put the horses in the horse box
and drove back to the stables.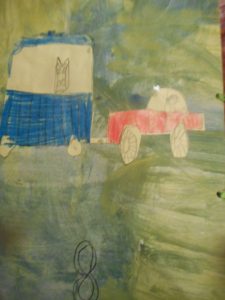 Reggie and Little Paddy
were glad to be home.
Joe was happy that
the adventure was over
and that his favourite horses
were safely home.