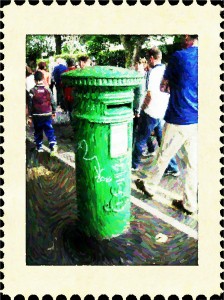 We have sent some St.Patrick's Day greetings
to our friends in Room One, Aurora School, New Zealand.
In fact the envelope was so large it didn't fit in the post box above!
So we brought it to the post office.
Now we can track the progress of our package.
We posted this on March 6th.
We can see that it has left Heathrow Airport in London, UK
shortly after midnight on March 7th
and is on its way to New Zealand.
Update: It is the morning of Monday 10th March here. We checked  at 8.30 a.m. and saw that 
the package had already arrived in New Zealand at 2.16 p.m.
on the afternoon of Monday, March 10.
This shows that New Zealand is ahead of Ireland.
We are amazed at how quick it travelled and are very happy
that it will arrive on time for St.Patrick's Day on 17th March.
Update, 11th March 2014.
We see from the messages we received from Aurora School
that the envelope arrived on the 12th of March in New Zealand!