We are following the programme in comprehension:
'Building Bridges of Understanding'.
We are learning comprehension strategies.
As a whole-school, we concentrated on 'prediction' in September and October.
Now we are practising 'visualization'.
We are reading 'The Hodgeheg' by Dick King Smith.
We are also learning a lot about hedgehogs and road safety in class too.
Nicole drew this one:


We drew lots of pictures to illustrate The Hedgehog Family:
Ma, Pa, Peony, Petunia, Pansy and Max.
This is Owen's one to show you the family…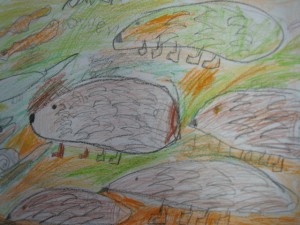 '… sitting in a flower-bed at their home,
the garden of Number 5A
of a row of semi-detached houses
in a suburban street.'
This is Julia's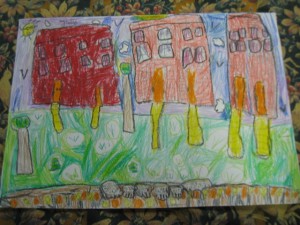 Some other children also drew what they could visualize when we read:
'On the other side of the road was a Park,
very popular with the local hedgehogs
on account of the good hunting it offered.
As well as worms and slugs and snails,
which they could find in their own gardens,
there were special attractions in the Park.
Mice lived under the Bandstand,
feasting on the crumbs
dropped from listeners' sandwiches;
frogs dwelt in the Lily-Pond,
and in the Ornamental Gardens 
grass-snakes slithered through the shrubbery'.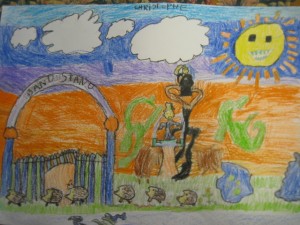 JC included all these special features.
Here are our visualizations:
Visualizing 'The Hodgeheg' by Dick King Smith on PhotoPeach
Here is an Animoto of our work:
We would love to hear what you think of our work.
If you would like to comment,
please double click
'Continue Reading' below
and a comment box will appear.
A Reminder:
Please don't leave your child to explore online unattended
The internet is a portal to the world outside. Children should be supervised.