Once upon a sad sunny time there lived the poorest boy named David.
He was a poor child and he had a poor dog named Chop Chop.
He used to have to hunt for food and Chop Chop used help him.
David had blue, black hair the colour of a bluebottles's wings  with sunset orange eyes.
He wore blue shorts and a black t shirt and black jacket. He really loved good food, reading and writing.
He doesn't like fire, stories that are really sad and he really really hates cooking.
He is just twelve and he has two friends. They were hunters.
Their names were Seán and Jack and they lived in the same house.
The three boys lived in a poor house.
This house is beside a haunted forest full of old and scary trees.
One morning he went walking.
He could smell beautiful flowers and pancakes cooking.
He felt hungry.
He can hear birds singing and dogs barking angrily.
He feels the coldness of the air and sad.
This was the problem, at the place where the three boys
used go hunting for food there was a GREAT problem.
There was a big monster.
They used go hunting in the dark forest.
David had never seen a monster there but people said
the monster had a crab hand and six eyes also crab legs.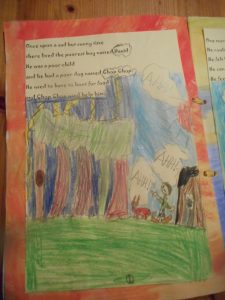 The boys were afraid to go hunting there
because of the monster and now they were hungry.
David found a helpful man named Bob.
He was stuck in the river of sharks,
but very luckily he was a guy in a monster truck.
David climbed aboard the monster truck.
Together Bob and David travelled to the dark forest.
The noise of the truck scared the monster
and he disappeared, never to be seen again.
The last David saw of the monster was
the crab legs scuttling off into the distance.
David, Jack and Sean went hunting
and they invited Bob to a big feast to celebrate
the end of the monster's reign of terror in the forest
and the boys didn't go hungry again.