The Story Begins
Once upon a time a famous footballer,
Lionel Messi was born in Argentina.
His family and friends called him Leo.
He was number 3 of 4 children.
His father and mother both worked in a factory.
He always loved football.
He played football all the time
with his big brothers and his cousins.
Chapter 2
Messi Gets A Football
Messi said 'I got given my first football when I was very young: 3, maybe, or 4.
It was a present and from then on it was the only present I ever wanted, Christmas, birthday or whatever: a ball.
At first, I used to collect them. I didn't want to take them out in the street in case they burst or got damaged.
After a while, though, I started taking them outside and actually playing football with them!'
Chapter 3
Playing Football in the Street
The house where Messi lived had no garden.
He played football in the street in front of his house.
Messi said 'I started playing when I was 5.
At first, I wasn't always allowed to play with the bigger boys but that changed as I got older.
It's funny: sometimes my older brothers didn't want me to join in those games in the street.
That wasn't just because I was small. They said it was because they were playing against older boys.
The thing was that the other boys wouldn't be able to get the ball off me:
my brothers were worried that I would end up getting kicked or that something bad might happen to me if the other boys got angry.'
Chapter 4
Messi joins a football club
Many of Messi's family played at the local football club
from Messi who was only 4
to his uncle who was playing for the senior term.
Messi's dad was one of the football coaches.
The club didn't have a team for boys as young as Messi.
He was only 4.
Chapter 5
Messi's Granny
One Sunday, when an older boy didn't turn up for his game,
Messi's grandmother asked the coach
to give him a chance to play.
His grandmother would bring him to training and matches.
To this day Messi often celebrates his goals
by looking up and pointing to the sky
to remember his grandmother.
Chapter 6
Football Crazy
Messi said 'I was playing every hour of every day that I could.
I'd go to school, come home
and, straight away, go out with a ball.
Then I might go training, come home, have something to eat
and then be back out in the street again.
I was always out in the street. And always playing football.
I even kept a ball with me when I was indoors!
His school teacher said, breaktime was football time
and everyone wanted Messi on their team.
His mother would want him to bring in the trophies
he won to school, but he didn't want to show off.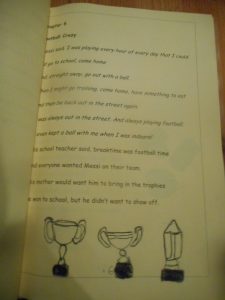 Chapter 7
Chocolate Biscuits
Messi was shy and a fussy eater
He loved chocolate biscuits
so his coach promised him a chocolate biscuit
for every goal he scored.
Then his coach promised him two biscuits
if he could score with his head.
His coach said:
"When you saw him you would think:
this kid can't play ball.
He's a dwarf… too small.
But immediately you'd realise that
he was born different,
and that he was special."
Chapter 8
Special Medicine
Messi's parents were worried
that he was not growing like other boys his age.
After a lot of tests when he was 10,
doctors said Messi was growing
but much more slowly than others.
The doctor said he needed a special medicine
so he'd begin to grow at the same rate as other boys.
'I was eleven, maybe twelve,
when I started the hormone treatment.
I had it for a year in Argentina, which my Dad paid for.
Then, when I came over to Europe,
Barcelona Football Club already knew all about it
and they took over the cost of it'.
Chapter 9
Moving to Spain
Messi was 13 when he moved to Barcelona in Spain
to play football.
By the time he was 14, his treatment was working
and he was growing properly.
Messi said that football
'…was a fantastic thing and what I wanted to do.
But it was strange, too. And difficult: there was nothing here that I was used to from my life back at home; no playing in the street, none of our little football matches…'
He was so quiet that at first the other boys believed
he was mute and could not talk.
He was homesick after his mother moved back to Argentina
with his brothers and little sister,
while he stayed in Barcelona with his father.
Chapter 10
Dreams Come Through
'When I was young, I think that being a footballer
was what I always wanted to do,
although it was a dream.
I never imagined it would come true and, of course,
I never imagined the way in which it would come true.
As a boy, I just played because I loved the game
but, in the back of my mind, there was a dream
of playing professionally.'
Lionel Messi's dreams came true.
I believe mine will too.