Once upon a dark and gloomy, wintery night
in Book World,
there lived a sad girl
and a furry dog
and a busy dad.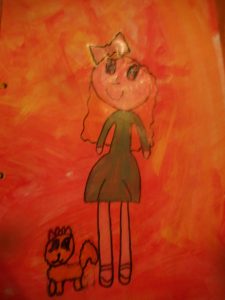 Stella's lives in an apartment
on Book Street
across from the Mythical River
north of Paper Mountain.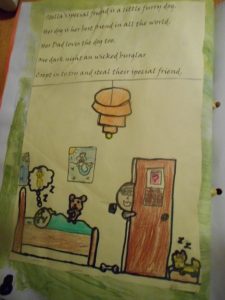 Stella likes books and reading.
She dislikes watching TV and using electronics.
Stella's apartment is in a big old building
in a big old city famous for the Castle of Books.
The building and the city are wet and smelly.
You can hear people shouting and crying.
This makes Stella feel sad, lonely and angry.
Stella's special friend is a little furry dog.
Her dog is her best friend in all the world.
Her Dad loves the dog too.
One dark night an wicked burglar
Crept in to try and steal their special friend.
The next morning the dog was gone.
This made Stella and her Dad sad and nervous.
They searched everywhere.
They  tried to get the dog back but failed.
But Stella's dog was brave and clever.
He found his own way home.
Stella and her Dad were very happy
and they all lived happily ever after.