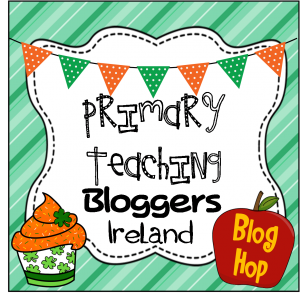 I am coming a little late to the 'Primary Teaching Bloggers Blog Hop' as I was holidaying in an internet free zone.
Some Irish primary teachers who blog have come together to support one another. Emer the teacher whose blog is called 'A Crucial Week' has devised this Blog Hop  for Irish teachers who blog. If you follow this link to Emer's blog, you will find links to all the Irish bloggers taking part in the 'Blog Hop'. I found a couple of great ones I was unfamiliar with. In turn the recommendations they made to blogs they have found useful greatly added to my list of useful blogs. If you are an Irish teacher who blogs, why not follow the links and add your blog to the list.
As part of the 'Blog Hop' there are some questions to answer as follows:
Tell us a little bit about yourself and your teaching experience:
I'm Mary aka Merry Beau. I have been teaching in Wicklow for over thirty years. In that time I have taught the full range of classes and enjoyed them all. I am working in Learning Support at the moment and love how well you can get to know a student in these smaller working groups.
What class level are your ideas aimed at?
I think most ideas here can be adapted for use for any group from First to Sixth. When I started blogging I used try to write clever titles for my posts, but now in fairness to busy teachers I always try to give a clear indication in the title of a post, what age group the contents is suitable for.
What made you want to start blogging?
I started this blog in 2011. My students loved the activities we did on the Interactive Whiteboard and would often ask me for the links so they could try them at home. Rather than send these home on paper where they were mislaid, it was so much easier to put up the links online. I had also accumulated a lot of slideshows of art work the students had done but no platform on which to put them so as to share them with parents.
Would you advise other Irish teachers to start a blog?
Yes definitely. I love to get ideas for class from reading other teachers' blogs. One's own blog stores ideas from year to year and helps with planning. Writing up an activity afterwards helps one to reflect. Seeing exemplars of work that was done other years is motivating for the students and gives them a starting point. So too is knowing that their work is being done for a 'real audience'. Students learn internet safety as they go along and learn digital citizenship. Parents appreciate seeing the work that is done in school and the additional communication a blog creates. There is a helpful, generous and welcoming international community of teachers who blog. I enjoy this feeling of a global staffroom.
However starting out, blogging can feel like a rather solitary existence. Click here to read about how new Irish teacher blogs can start to connect effectively with an audience.