First Class have been busy.
They have written a poem about the school rules.
Third Class when they heard it,
thought it was like one Roald Dahl might have written.
It is catchy and funny and talks about icky things like lice.
Third Class decided that they would illustrate the poem.
They looked at lots of Roald Dahl books
and the illustrations by Quentin Blake.
They modelled their illustrations on his.
Here is the poem by First Class
with illustrations by Third: 
Our Classroom Rules
Don't interrupt, put your hand up
Seats at lunch, thanks a bunch!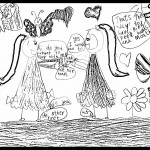 When you speak, please be nice.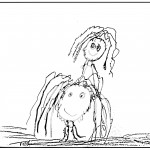 On a Thursday, check for lice
Keep your classroom nice and clean.
Remember that we are a team.
Flush the loo and wipe the seat
And most important:
Kind words
Kind hands
Kind feet.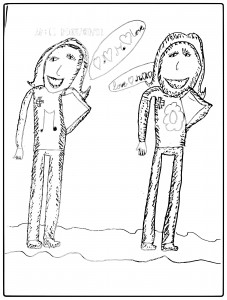 Third Class, just click on the picture below to see all your pictures:
Don't forget Roald Dahl Day is today: 
Saturday 13th September, 2014.
Why not celebrate by re-reading your favourite Roald Dahl book.