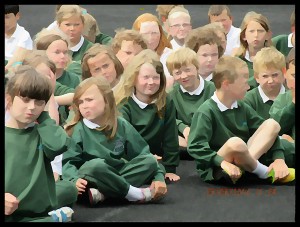 i
The sun swings like a golf ball
High into the sky; and drops light down
Over the school.
 ii
The grown ups and little ones scurry
About as if powered by the ESB
Meals crinkled into tuck boxes
Breakfast rammed down. Milk spilled.
iii
The little ones power ahead
Parents shouting 'stop' near edge
The black tar!!
iv
Round the corner like
Something familiar on a dark night
School looms large
The little ones have reached their quest
The teacher leads like the
hunts woman.
v
Bugle sounds; tally ho; hey go
And the stair is charged.
They arrive; bags down
Lessons learnt; play yard
Done.
vi
Food found. Chat swirls
Around. Byes complete
The day; the little ones
Unwind themselves to
Home, like a spool of string
Ending in stop; now relax
Into a ball!!
by A.K
If you enjoyed this poem you may enjoy