Recently we visited a lovely blog
recommended to us by our 'old' friend 😉
Mr. Webb from Aurora School, in New Zealand.
This blog is Room 8 @ Aurora.
Room 8 is a 0-2 Class. In Ireland we would say
a Junior and Senior Infants class.
Like ourselves the school is not far from the beach.
Their school is surrounded by farmland.
Why not visit their blog!
Call in and say hello! You can find it here.

We left a comment on this blog
and their teacher Ms.Nicholas kindly replied:

So hello to the children in Room 8, Aurora.
It is nice to meet you.
Let us tell you a little bit about our school.
The teachers are kind and fair and the students are friendly.
You can see our school here:
There are lots of good things about Greystones,
the town where we live too.
It is beside the sea.
There are lots of things to do for children.
You would like living in Greystones if you like
football, rugby, tennis, karate, running,
cycling, swimming and skateboarding.
You would also like to live in Greystones
if you were interested in music, drama or reading.
There is a very good library in Greystones.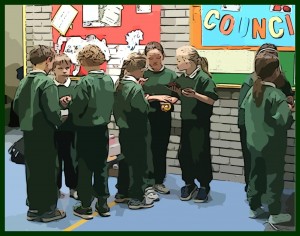 Bye for now.
We hope you have a good week in school.
We will visit again, soon.