Occasionally on our blog we write about
past pupils of St. Brigid's, Greystones.
Earlier in the year we told you about Emily's Green Fingers 
and her contribution to our community.
Before that we wrote about Harry 
who is having great success musically.
We called that post 'Mighty Oaks from Little Acorns grow' .
Today we want to tell you about a girl
called Caroline Dwyer Hickey.
Caroline and her little brother Denis
came to school here with us in the 1980s
and they are both fondly remembered by the teachers
who were working here then
and by the school friends who were here too.
Caroline went on to become a primary school teacher
and she worked in another St. Brigid's NS., in Glasnevin
where she was greatly loved.
Caroline went home to God on 20 March, 2013
after a brave battle against cancer.
She was a girl who was greatly loved
and people wanted to remember her.
In St. Brigid's Glasnevin,
they are making the most marvellous mosaic

to commemorate her.
This brings us to the wonderful
and most magnificient Greystones Bear: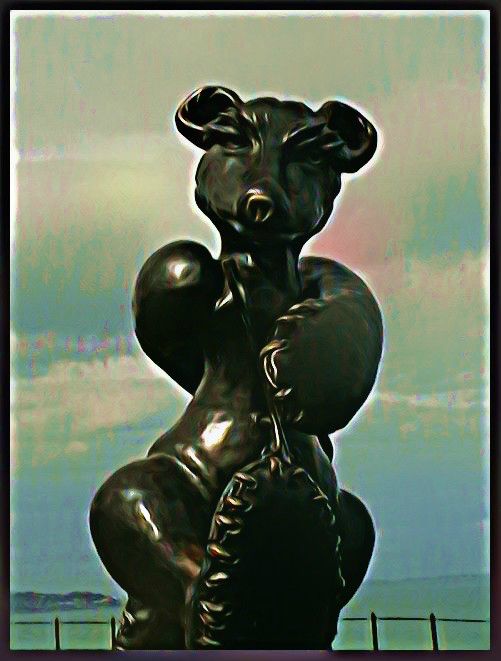 He looks even better in real life 😉
Caroline's family gave the community of Greystones
the gift of this wonderful bear
in memory of Caroline.
The Beach Bear was created
by the talented sculptor Patrick O'Reilly.
The bear is taller than any grown up we know.
He is eight foot tall and two tonnes in weight.
He carries a bucket and spade
and he looks as if he is marching down to the beach to play.
We love him and every time we past we say hello.
There are always people around him, admiring him.
Family and friends of Caroline have also established
'The Caroline Foundation'.
The 'Caroline Foundation' will raise funds for cancer research.
There is a Guinness World Record Attempt
being held on Sunday, 11th May.
The challenge is to join up the longest chain of ribbons
from Greystones to Bray along the Cliff Walk.
You can read about it here.
Why not join in!
We know children from this school
who are taking part.
The event is very well organized
and children will not be on the cliff walk,
better locations along the route
are being organized for them.
We wish the Caroline Foundation
every success in this exciting challenge
and remember our brave past pupil.