We sent St. Patrick's Day Greetings near…
to blogging friends in St. Peter's Bray:
and far ….
all the way to Auroa School, in New Zealand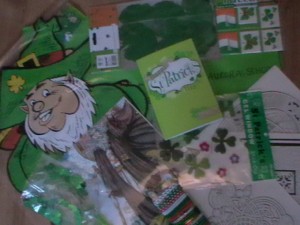 ]
Click on this link to see what
Room One, Auroa School in New Zealand
had to say about the bits and bobs we sent them.
Below is Larry the Leprechaun in
St. Peter's in Bray.
Why not leave a message for our blogging buddies
in Bray and New Zealand.
They are a friendly bunch and we know
they would LOVE to hear from you.
Larry the Leprechaun certainly
got around in the past week or so!