Polly the Polar Bear, has come to visit St. Brigid's Greystones,
all the way from St. Peter's in Bray.
She has come to visit Brigid the Biodiversity Bee
and has told her all about Polar Bears
and why they are endangered.
Now it is Brigid's turn,
to tell Polly her side of the story.
'Well first, said Brigid,
'it is important to know about the important job bees do:
Read all about the important job that bees do HERE.
You can read more about that important job of pollinating flowers here.
Why are bees endangered?
Well you can find out the answer to this question if you click on this link.'
'We've done a lot of good work,' said Polly.
I think it is time, I thought about getting back to Bray…'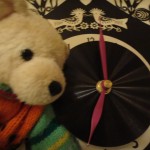 Watch out 2nd Class, St.Peter's,
Polly is on her way back to you 🙂