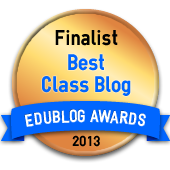 Congratulations to all the worthy winners and runners up in the 2013 Edublog Awards. The full and final results are on this link:
Edublog Awards 2013 
We were very happy to be finalists and to come fifth in our category (Best Class Blog). Thank you to everyone who voted for us. We learned a lot by visiting the other class blogs and we made new friends in other parts of the world. We love our colourful finalists' badge which is a great reminder of this rewarding experience.
We would also like to thank those at Edublogs who made the Edublog Awards happen.