Photo Credit: Nina Matthews via Compfight
Did anyone tell you that a mouse
came into the classroom two months ago?
When it came in everyone freaked out.
In the end, we left the room.
Luckily, Room Ten was off on a hike,
so we borrowed their room.
And a week ago I saw a pest control van in the grounds.
There haven't been any mice seen since.
23rd January 2013
Cartoon by Cillian:
Cillian is currently learning about fractions in school.
He drew a cartoon from which you can probably guess
what he thinks about them!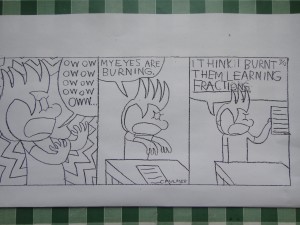 .