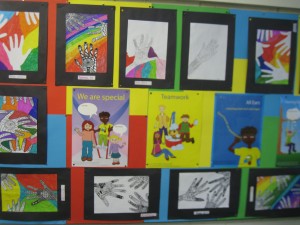 We have an Anti Bullying Week
three times each year.
This happens once each term,
in the last week of
September,
January
and April.
We like to be positive about this,
so we call it 'Be A Good Friend Week'.
Next week is 'Be A Good Friend Week'
in our school.
The aim of this week is to: 
Remind everyone that bullying is unacceptable.
Give children a chance talk.
Remind children to tell teacher.
The children and teacher agreed
on an Anti-bullying Code.
This is displayed in the classroom.
Our Code of Behaviour states:
Any form of bullying behaviour is totally forbidden.

Never do or say anything to deliberately hurt another.

Keep unhelpful hands, feet, looks and comments to yourself.

Do not play jokes or tricks which could upset another.

Try to imagine how the other person feels.

Show respect and care for one another.

Ensure that everyone in your class is included and feels welcome.

If you are bullied,
follow the STAY SAFE rules:

say "STOP",
"GET AWAY", and
"TELL" an adult.