We entered a competition run by Dublin City Council about the future we see for Dublin.
We wrote an essay …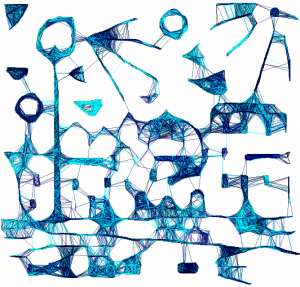 This is the future that we see for Dublin.  
If we use sun power,
windpower
and pedal power
we can improve the transport system in our capital city.
Transport need not all be at ground level.
Windpowered transport would fly above the city with sun powered vehicles.
Wheeled transport and pedal power would move at ground level.
Some transport could travel underneath the ground. Boats would travel along the river.
All vehicles would be light weight and designs would be good.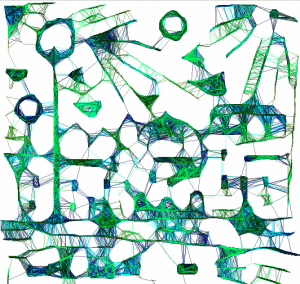 With the transport at three levels:
 above the city,
 on the ground
 and below the ground,
 traffic jams would be history.
With transport being powered by the sun,
the wind
and pedal power,
traffic would not make noise.
Nor would there be the smell of petrol
and exhaust fumes.
In this way it will be more attractive for people to cycle
and to walk in the city of Dublin.
People will be healthier and more fit and they will be happier.
Dublin will be greener and cleaner.
There will be no pollution from cars and lorries.
Nature and wildlife will return to Dublin and the river.
Parking of these new vehicles would be in the underground
and multi-storey car parks that are already there, 
but outdoor carparks can be turned into parks where people can walk and sit.
Trees and plants will grow happily.
Dublin will be the same in ways.
The Spire and the Custom House will still be there.
But we will build on the beauty of the city.
It will be a capital city to be even more proud of.
Tourists will visit to see what has been achieved.
This is the future we see for Dublin.
And then we wrote a poem:
We can see Dublin in the future.
We hear the gentle traffic hum.
We taste success .
We smell fresh air.
We touch the heart of the city.
We see the bright spire.
We hear happy talk.
We taste an energy.
We smell clean water.
We touch the soul of the city.
A light, bright Dublin
Shiny like a new coin
Strong and green like an oak tree.
Sparkling like the Liffey in the sun
We would like to go there now.
The sooner, the better.
We hope it is not a long journey.
If we start now,
We will get there quicker.
'Well done' the children will say.
Let's keep it this way!
We say goodbye to noise pollution.
And so long …
to dirt and grime.
We say slán leat …
to lead poisoning
And fáilte romhat …
to a bright new day.
We worked collaboratively and we illustrated our work using an online digital tool called Scribbler.
Congratulations and Well Done
to Fourth Class, Griffith Barracks MDNS.  
You can read their imaginative and innovative ideas here