This is the tenth and final week
of the Student Blogging Challenge 2013.
You can read about it here 🙂
We began this challenge at the beginning of March
and have learnt a lot of interesting things
about blogging in that time.
We have also made contact
This week we were ask to evaluate our blog
and to ask someone else to audit it.
How many posts did you write?
Oops we were on a bit of a roll,
we have written 121 posts since the beginning of March
How many were school based, your own interests
10 of these were the blog challenges
and the other 111 were school related.
How many comments did you receive
from classmates, teachers or overseas students?
Since the beginning of March
we have received 98 comments
15 were from teachers from overseas
11 were from parents of students in 2nd Class, Room 6
32 were from overseas students
6 were from students from other schools in Ireland.
Which post received the most comments?
With 8 comments, 8 replies and 2 pingbacks that would be:
Why do you think that happened?
Because other bloggers participating
in the Student Blogging Challenge
were asked to comment as part of that week's challenge.
There were links on this post to other blogs and
those bloggers got in contact.
Which post did you enjoy writing the most and why?
It is very hard to choose which post we enjoyed writing the best.
We found talking about our digital footprint very interesting
But perhaps our favourite post to write was
The image that we were asked to write about
generated a lot of interesting discussion
and some excellent writing.
and it was a collaborative effort
with Nicole writing the script
and Matthew, Isabella and Clara
We thought the end result turned out well 
and we got some very encouraging feedback from Ms. W. 🙂
Did you change blog themes at all and why?
No our blog theme is like our identity at this stage.
Our parents and friends who visit would recognize it.
If we changed it they might say:
'Where are we?
We don't recognize this place.
We are lost. Let's go home!'
and we wouldn't like that.
So we would be slow to change it.
How many widgets do you have?
We LOVE widgets. We have 20 widgets.
Do you think this is too many or not enough?
This is probably too much
we are going to leave them there.
If we saw a new one we really liked,
We feel our widgets like our twitter feed
and add to 
the personality of our blog.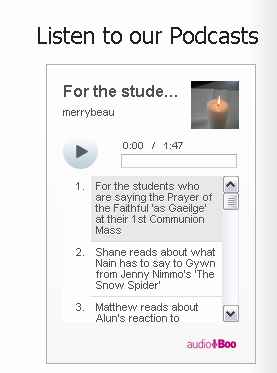 Having our podcast feed in our sidebar
helps visitors find them.
Widgets tells visitors a bit more about who we are
and what is important to us, like our bookshelf,
How many overseas students do you have on your blogroll?
We have 6 overseas students
and 12 overseas class blogs on our links.
What were your first impressions of this blog?
Colourful, busy, age appropriate
What captured your attention?
I thought the title was good
and I liked all the images.
What distracted you on the blog?
The blog takes some time to load
What suggestions can you give us to improve the blog?
Shorter, snappier posts!