One of the best things about blogging
is the friends we make from all over the world.
Dijana from Canada is a very good friend to us
here on 'If Only The Best Birds Sang'.
She is a frequent commenter.
What she has to say is always positive and encouraging.
We know that Dijana is a little older than us.
She loves wolves!
And that her beautiful and unusual name is pronounced Dee-ana.
(the 'j' is silent).
We learn two languages in school; English and Irish
and Dijana learns English and French.
Now Dijana has sent us two lovely pictures
using a free photo editing programme called GIMP.
She asked us what we were interested in.
We said music and animals, especially dogs
and these are what she sent back to us.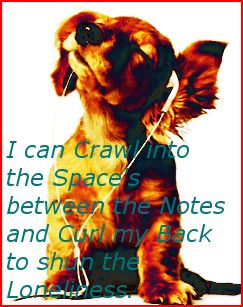 Thank you Dijana.
Perhaps you would like to visit Dijana's blog.
This is an excellent poem she wrote on the theme of friendship.