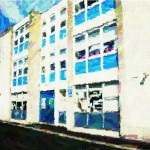 We enjoyed looking at the slideshows
Room 5, Melville School, Hamilton, New Zealand
did which let us see what their school looked like.
We were amazed to see blue skies and sunshine there
during what was our Winter.
Now Summer has at last arrived here,
we thought our school was looking at it's best,
so we took some photos,
Thanks for the GREAT idea, Room 5.
A Tour of Our School on PhotoPeach