We are doing the Student Blogging Challenge 2013
This is the third week and
We found this week's Blogging Challenge 'challenging' 😉
We were asked to think of ten ways of recycling socks.
You can read about the 3rd Challenge here.
First some maths!
How many socks do you use in  a year?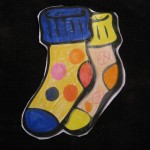 Over a lifetime how many is that?
In a family of four how many would that be?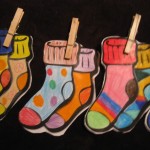 How about in a neighbourhood
In a school of five hundred?
In a country?
In the world?
So we are sure you would agree
we need to do more with our old socks
rather than putting them in the bin.
We think that there must be
at least three types of odd sock.
The Oldies but Goodies
There is the very old and threadbare
It deserves to be treated with respect.
It has done its job well.
They are used to hard work
and won't mind working some more.
The Lovelies
They are the very new, fashionable ones
that we love and then disaster we lose one.
The new job we can give these ones
can be a lot more glamorous
The Cuties
They are the really cute ones
that perhaps look almost new.
that Baby has grown out of them.
Wash very very well and then…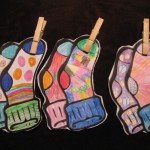 Wash them again.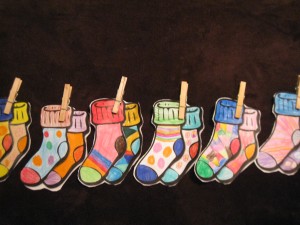 That the socks are clean
and that they don't smell is
really
REALLY important
for the success of these recycling ideas.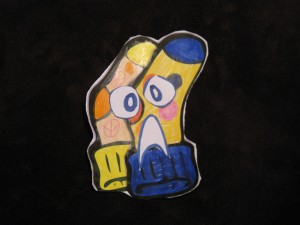 So what to do to recycle socks?
You could use them to:
1. dust and polish
2. clean blackboards or white boards
3. protect shoes when we do painting and decorating
4.  You have heard about a soap on a rope. How about a soap in a sock?
Put a bar of soap into a long sock  rub it and it will lather up. 
5. The feet can be cut off the sock and they can be used as leg warmers
6. Tie a few together to use as a toy for your dog or your cat.
7. Stuffing: Cut old socks up into small pieces and use to stuff toys or pillows.
8. Make sock hand puppet
9. If you have babies just learning to crawl, take a long sock, cut the feet off and put the
footless sock over baby's knees to help protect them and the clothes they are wearing.
It's well known that washing machines and driers steal them.
Buy identical pairs of socks
and then you will be able to make a new pair with the odd ones.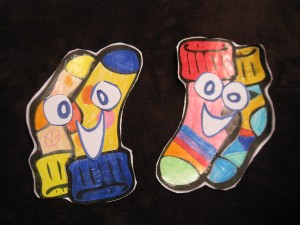 We made a short comic using 
We called it:
Where do all the odd socks go?