Making Connections is a comprehension strategy
we use in school when we read.
It is good to make connections
in other subject areas too.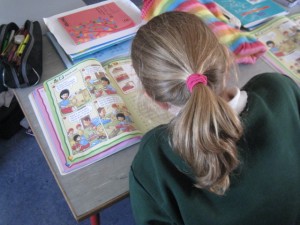 Like New Zealand we have two languages here in Ireland:
our native language (called Irish/Gaelic/Gaeilge).
and our adopted language, English.
Irish is taught in schools.
Teachers have used the popularity
of the haka from New Zealand
to teach Irish:
Take a look at this great video is from
a 6th class in Balbriggan ETNS.
Uillinn dheas, uillinn chlé 
(right elbow, left elbow)
Buail do chos, buail do chos 
(stamp your feet, stamp your feet)
Gualainn dheas, gualainn chlé 
(right shoulder, left shoulder)
Bualadh bos, bualadh bos 
(clap hands, clap hands)
Lámha ar na glúine 
(hands on knees)
Cromaigí, cromaigí 
(bend down, bend down)
Lámha in airde 
(hands up)
Éirígí! éirígí!
(rise up, rise up)
Síos ar na glúine
(down on your knees)
Lámha sna cluasa
(hands in ears)
Bualadh bos, bualadh bos 
(clap hands, clap hands)
Léimigí suas….. AAAAAAA!
(Jump in the air)
– by Dominic ó Braonáin
The older children in our school are familar
with the song from New Zealand
'Pokarekare Ana'.
In Senior Classes they learn how to
play this tune on the recorder.
The tune of Pokarekare Ana
is used in Ireland for a hymn to Mary:
'A Mhuire Mathair'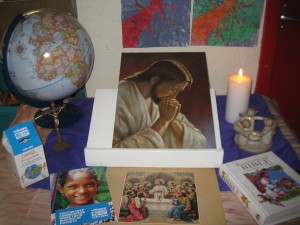 Other connections: Both countries are islands
and have a strong connection with the sea.
Both New Zealand and Ireland
are green and beautiful.
Family is important.
Both countries have an interest
in the sport of rugby.
The New Zealand rugby team
are good ambassadors for New Zealand.
We see in films like 'The Hobbit'
that New Zealand is very beautiful.
Making connections makes the world go round!