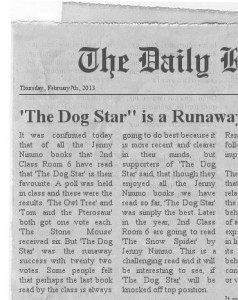 From 'The Daily Reader' newspaper:
"It was confirmed today that of all the Jenny Nimmo books that 2nd Class Room 6 have read that 'The Dog Star' is their very favourite. A poll was held in class and these were the results. 'The Owl Tree' and 'Tom and the Pterosaur' both got one vote each. 'The Stone Mouse' received six. But 'The Dog Star' was the runaway success with twenty two votes.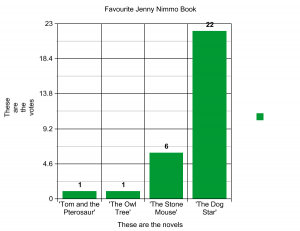 Some people felt that perhaps the last book read by the class is always going to do best because it is more recent and clearer in their minds, but supporters of 'The Dog Star' said, that though they enjoyed all the Jenny Nimmo books we have read so far, 'The Dog Star' was simply the best.
Later in the year, 2nd Class Room 6 are going to read 'The Snow Spider' by Jenny Nimmo. This is a challenging read and it will be interesting to see, if 'The Dog Star' will be knocked off top position".
So why was 'The Dog Star' so popular?
We agreed that it was about something
a lot of children dream about:
a dog of their own.
But the story is not that straight forward.
There are a lot of difficulties
in the story for Marty
who is the main character.
Her older sister Clare puts her in a very difficult
situation and she doesn't know whether to
make her sister happy by being mean to
Miss Theresa Tree or make her Dad happy
by being friendly to her.
We found the story
serious,
mysterious
and magical.
We prefer serious books.
For example we preferred the serious
'Owl Tree' by Jenny Nimmo
to the 'Owl Who Was Afraid of the Dark'
by Jill Tomlinson, even though it made us laugh.
We 'made the connection' between the eight and a half years,
that it takes the light from the Dog Star to reach earth,
and the fact that Marty is eight and a half years old
and that Marty's Mum went home to God
eight and a half years ago.
Having already read 'The Owl Who Was Afraid of the Dark'
we knew about Orion and his belt,
and what the Dog Star was, didn't need to be explained to us.
Even at the end of the book,
we were left wondering about
'The Dog Star'.
What was it really?
Where did it come from?
We would give this book ten out of ten
and would recommend it to children
between the ages seven and nine.
If you would like to comment, 
please double click the title at the top of a post
or the 'Continue Reading' box at the bottom 
and a comment box will appear.
We would LOVE to hear from you.