We spent the past few weeks looking at masterpieces of trees:
Van Gogh's 'The Mulberry Tree'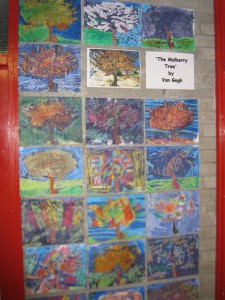 Mondrian's 'Gray Tree'
and Emily Carr's  'Forest'
Georgia O'Keeffe's 'The Lawrence Tree'
and Klimt's 'Tree of Life'.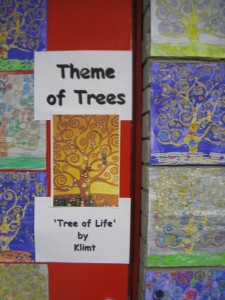 You can see more of this work on other posts 
Now having studied these works of art and trees 'in real life',
we will draw our own trees.
Before this project the most popular way
of drawing trees in the class was often like this:
However take a look at this slideshow
of the trees we drew since:
Perhaps after looking at our trees you might guess
which artist's work we liked the best.
Was it Van Gogh's colourful 'Mulberry Tree?'
or Emily Carr's 'Forest'.
In fact as you can see from the graph below,
one artist's work was a runaway success.
The children explained their choice by saying that
there seemed to be something 'magical'
about Klimt's 'Tree of Life'