COMMUNION PREPARATION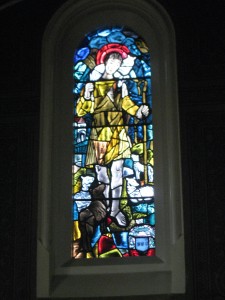 Introduction
As parents we want the best for our children. We try our very best to help the whole child to grow. Spiritual growth is part of this.
Relationships are important in all our lives. A relationship with our friend and brother Jesus, God Our Father, Mary Our Mother will stand to our children in their future, perhaps in stressful times, that may be ahead of them, (worries, disappointments, difficult decisions they may have to make) when we might not be around.
A one-to-one trust in the Lord and the support of our friends in the parish does help in difficult times.
Our Church
The church can be a very quiet and peaceful space where we can go to have time to get away from it all, – to think and to talk to God. In our busy lives, a quiet place to go to think is important.
Jesus is our friend! I say to the children supposing you had a friend you never saw or never talked to or never went to visit. What would happen to that friendship?
At other times, say on a Sunday the church is a busy place – where we gather together with our friends and family and neighbours to honour God. Going to church can be there for us all our lives – when we need a quiet place or we need our friends around us.
Religion observances in school and at home can provide your child with something similar – quiet times – and celebrations and a feeling of togetherness.

Some suggestions as to how you might prepare your child for their Communion
Ideally this is something that has already been happening in your house with perhaps
– an evening prayer as part of the 'wind down' at bedtime,
– visits to the church, and lighting a candle.
And if it hasn't – not to worry – now is as good a time as any to start!
If your child has a particular interest – say in a football team, books, magazines, maybe the strip is bought. Children become absolute experts on the team members, who the manager is, what their home ground is, place in league table etc. etc.
So perhaps you could encourage your child in their faith in a similar way. Talk to them about it. Why not read your child some bible stories at bedtime!
I find in class that the children love the Old Testament Stories and the Miracles of Jesus. Often you will find simple inexpensive books for children for sale at the back of our church. For example Veritas on Lower Abbey Street, Dublin and Scripture Union Bookshop on George's Street in Dun Laoghaire have a great supply of books and cds.
It's not just a matter of stocking up but taking the time to sit with your child to read with them or to talk God.
Preparing a 'sacred' or 'prayer' space could be part of this too.
A Word about First Confession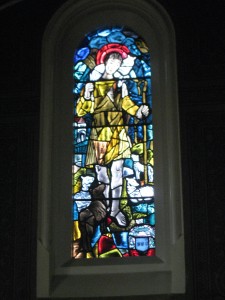 Your children model their behaviour on yours, so talk to them about forgiveness. This prepares them for their own First Confession.
It is often suggested that First Confession be followed with some small celebration to mark the day – a meal perhaps.
First Holy Communion
First Holy Communion is presented as a special meal in God's house to which your children are invited. Your child's spiritual growth, their relationship with the Father and with Jesus doesn't stop once the Communion is over.
It's a milestone in their journey, begun when you presented them at Baptism and Confirmation is the next stop!
Calling into the Church
A Man United Supporter in the house and parents bend over backwards to bring them to Old Trafford! Preparing for Communion then – Bring them to the hallowed ground. Our church is just next door! You could visit on the way into school or on the way home.
Show your child how to bless themselves, – and bless themselves with holy water, – Can they genuflect? In this way they are not unfamiliar with this when we go there as a class.
Being Actively Involved
Children like to be active and be involved, going to Church on a Sunday they appreciate a mass that involves them. The Family Mass, the Folk Group and Gospel Choir all give opportunities for the children to sing and to be involved.
So I would say keep looking until you find the one that your family is most happy with. Or join a Family Mass group. You will be given the opportunity for you and your child to be involved in the parish 'Do it in memory of me' programme. I have seen the benefits of children being involved in this.
In Conclusion
I hope you can see that helping your child's spiritual growth gives them a gift for life that will provide them with
a friend in Jesus,
a heavenly Father,
a star to be guided by
and a port in a storm.
I'm sure you will agree this is important.
From RECENT UPDATES
A Reminder: 1st Holy Communion Meetings for parents:
Wednesday, September 19th or Wednesday September 26th at 8.15pm in the Kilian House Family Centre.
Enrolments for parish programme of preparation for Communion at the following masses:
Saturday, 29th September at 6pm in Holy Rosary Church
Sunday, 30th September at 10am in St. Kilian's Church, Blacklion
Sunday 30th 12.15pm in Holy Rosary