First Communions for Room 6 are at midday on Saturday. We are well prepared 🙂 There is great excitement.
Both Standardized Tests i.e. Sigma T and Drumcondra Reading Test have been administered. I am in the process of correcting them. You will receive the results with the children's school reports.
In a break from tradition and in line with new Department of Education guidelines, school reports will be going home before the end of June.
Please remember a test result is just a 'snap shot in time'. You will get a better understanding of how your child is doing by also considering the work in the children's copies and workbooks, that I have been sending home.
We had a very entertaining class with the lady from Junior Achievement today. She was teaching the children about the taxes we pay. The children's outrage when a proportion of the money they earned was taken by the tax man was very funny.
However they also were given an understanding of how the taxes went to pay for necessary services.
The Passover meal was a great success. Our visitors remarked on how well behaved and interested the children were. I was very proud of all the questions the children could answer about the tradition of the Seder Meal.
An Incentive to Read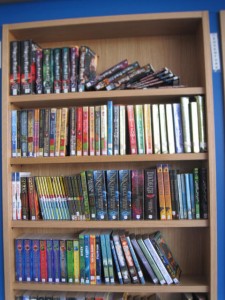 At the moment, in order to maximize the value the children get from the school library I have told them that if they read 10 chapters or 100 pages of particular books they can have a night off homework.
These books are;
any of the Charlie Bone series, by Jenny Nimmo,
any 'Naughty Little Sister' book by Dorothy Edwards
or any Roald Dahl,
Anne Fine,
Jill Tomlinson
or Allan Ahlberg book.
I have chosen these authors to encourage the children to try authors they haven't tried independently before.
These books relate to books we have read in class during the year.
I have also included the Ben 10 books and Enid Blyton's 'The Naughtiest Girl in the School'.
Of course the wonderful new library and all the new books purchased by the Library Ladies and funded by you, the parents is a great incentive to the children to read.
Completed Workbooks.
I will be sending one or two completed workbooks home each day this week. To my mind these give a better indication of how your child is progressing in school that test results. I would hope that you would have a good look at them.
If pages haven't been attempted…
It may have been that your child was absent on that day
or that they were attending Learning Support at the time.
But a page isn't finished…
It can be an indication that productivity was low on that day for whatever reason.
Sometimes children can be tired or unwell in class.
On other occasions they can be chatty or daydreaming.
Most of the children in the class have finished all their workbooks except 'Maths Matters' by now.
Things to bear in mind when looking at the work that is going home.
Presentation can vary too. At this point I ask all children to complete their work using joined writing. This isn't always the case.
I have also reminded the children that if a word is spelt correctly on the printed workbook page, when they themselves go to write down on the page, it should be spelt correctly.
The children know that sentences begin with a capital letter and end in a full stop. However you may see from their work that they don't always remember this.
I was a bit dismayed to see that some children are getting words like 'to, too and two' mixed up as we did a lot of work on this during the year. I think, in theory, the children know the difference, but when doing an exercise involving them, some children seem to lose focus. I intend to keep revising them.
Having said this I feel the children in Room 6 have worked very hard and made excellent progress.
I feel all students are ready for 3rd class. Their listening skills are greatly improved.
I am very happy with the work the children have done memorizing their tables and number patterns.
I feel we have done a great deal of reading and language work.
You will see great story writing which the class did in their green writing copies.
You will note that these stories aren't corrected word for word. This is accepted practice and is done so as not to discourage the children's creativity.
If you are learning to read, you need to practice reading. When you are learning to write you need to practice writing.
Plans for the next six weeks
We will be very busy in the next six weeks. I want to continue the work we are doing on repeated addition as a preparation for learning multiplication next year. I intend revising addition and take away tables.
I have a little more work to do on the Dolch List and then I will be doing a 'blitz' on spellings that sound alike and are spelt differently. In this way I hope to iron out the difficulties children are having with words like 'where' and 'were', and 'their' and 'there'.
We are also embarking on our most challenging read of the year; 'The Snow Spider Trilogy' by Jenny Nimmo; all 480 pages of it!
I am really looking forward to doing more recorder and knitting and project work.
There is also the school tour to the Chocolate Warehouse, Sports Day and a Seaside Scavenger Hunt to look forward to.
For that reason I would hope that the children come to school every day in the six weeks we have left.
With every good wish,
Teacher